Why We Want To Buy Acrylic Freestanding Bathtub ?
Fsbella acrylic freestanding bathtub is an excellent option for your bathroom. It's easy to maintain, inexpensive, and flexible. It can withstand household chemicals and is easy to clean. The tub comes with a five-year warranty. It comes in various colors and shapes. While you should check to ensure the bathtub is in good condition before using it, many acrylic bathtubs feature a nickel coating for aesthetic appeal. You can also use bath soaps and oils to clean it.
If you're looking for a bathtub that reflects your personality, an acrylic freestanding model is the perfect choice. Acrylic bathtubs are durable and stain-resistant, and the smooth surface prevents the water from leaking. However, these tubs don't fit in every bathroom, and a new home may not have the structural support to hold a large tub. If your home is older or has low-quality walls, a freestanding model might not be suitable.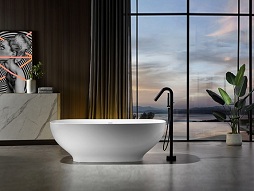 There are pros and cons to choosing an acrylic freestanding bathtub. It is easier to install, and it's far more cost-effective than fiberglass. And, unlike fiberglass, it won't warp or absorb water. However, there are a few things to consider. One of the biggest pro is that it doesn't require any plumbing work. It's lightweight, and doesn't take up a lot of space in your bathroom. The cons are minimal, and it's a good option for homeowners who want to save money.
Another benefit to buying an acrylic freestanding bathtub is that you'll have more options for design. You can choose from a wide variety of shapes and styles. But, be careful when choosing an acrylic freestanding bathtub. Some cleaning products can damage the surface of an acrylic bathtub, which is why it's important to read the manual that comes with the tub. Then, you'll have an idea of which style will look best in your bathroom.

Acrylic freestanding bathtubs can be made from a variety of materials. The material used to make a fiberglass tub is a combination of fiberglass and pure acrylic. They're light, flexible, and durable, while being cheaper than an acrylic tub, it's not as durable as an enameled steel tub. They are also more expensive than their counterparts. This is a good place to start shopping for an attractive acrylic freestanding bathtub.